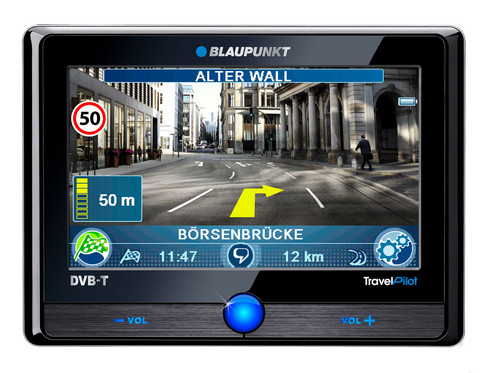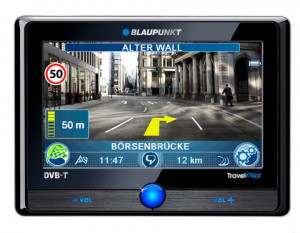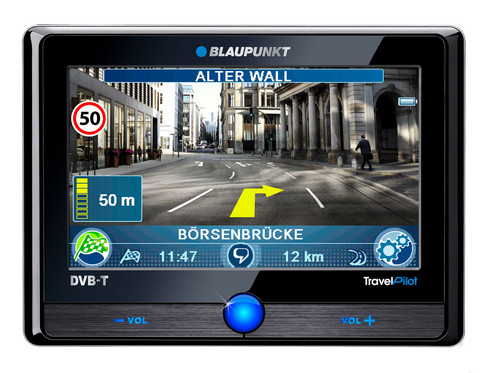 When we think of GPS, we think Garmin usually and some people even think TomTom, but Blaupunkt?  They recently introduced the TravelPilot 500 and 700 – two units that will blow the competition out of the water and make sure you remember their name.  Both units have video navigation as well as interactive voice controls, DVB-T digital TV, live traffic reports, media player functionality (supporting DivX, H.264, MPEG-2, QuickTime, WMV, XviD, AAC, MP2, MP3, OGG and WMA files) and Bluetooth for use as a hands-free kit.
The Travel Pilot 700 also has internet access email and a VoIP client. Internal memory is 8GB and the units use a 500MHz ARM9 processor and 266MHz DSP coprocessor. Now, time to blow the competition out of the water.  The units have real-time video navigation and traffic sign recognition.
Using an integrated video camera on the back of the device, the TravelPilots grab live footage of the road ahead.  The driver is able to see when to turn and the speed limit while looking a real-time video overlay.  You don't miss a beat, and that's how it should be.  Normally, we don't recommend getting a bigger screen, because with turn-by-turn, does it really matter?  However, with this unit, it's going to most likely only come in one screen size and the 700 is likely to run you $740.
Check out the video of the unit in action below
Blaupunkt TravelPilot GPS:
Source:  engadget