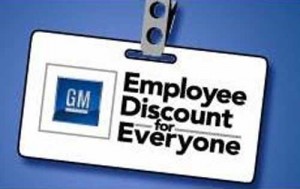 So this is what it's come to.  One of the Big 3 is falling so hard, they're closing in on every nickle and dime that goes in or out.  GM is now going after workers and retirees who it says, at one point, gave employee discounts to  non-relatives and have hit the not-so-deep pockets of GM at an estimated cost of $450,000.
No word on how many total lawsuits have been filed, but they do say company audits found the discounts had saved buyers anywhere from $1,000 to almost $9,000
The newspapers is reporting Saturday that some of the lawsuits were filed after this month's announcement by GM that it is temporarily extending such discounts to everyone on almost all of its 2008 and some of its 2009 models.
GM spokesman Tom Wilkinson says that in the past, such thing would've been overlooked, but the company realizes that they need to keep a close eye on their financials more than ever before.
Source:  ap.google.com