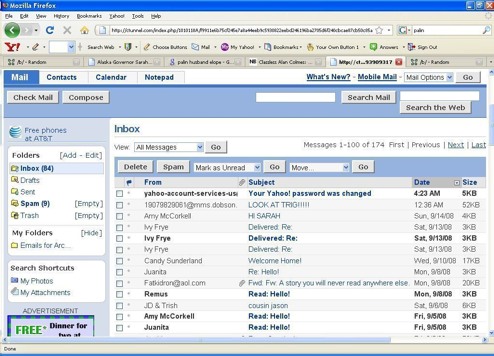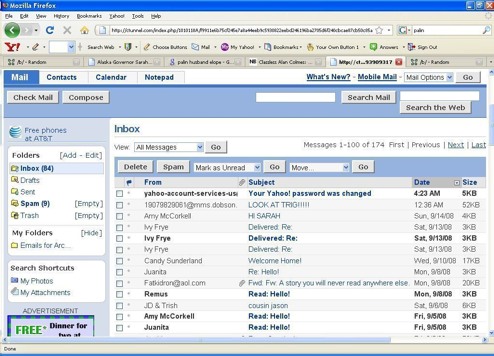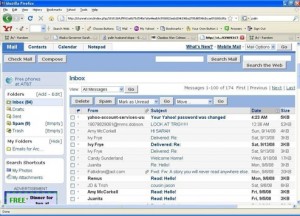 We've known for a while about the troubles that Republican VP candidate Sarah Palin has been facing lately.  It's about to get a bit worse.  She's been using a personal email account (gov.sarah @ yahoo.com) to conduct state business, which is a big no-no. It violates public records requests and could stall information gathering in the Troopergate scandal.
Anonymous, members of message board 4Chan, got into Palin's other email account (gov.palin @ yahoo.com) and although a lot of the stuff's been deleted from the message board, Gawker's managed to grab a hold the goods.
The sad thing is that some idiot alerted Sarah about what had happened and changed the password.  Then, a whole lot more happened when people tried logging in all at once, freezing the account for 24 hours.  And now?  The account's deleted.  Yikes, talk about destruction of evidence!
This email account's got some legitimacy due to the personal photos we've never seen before, and a whole lot more.  There's a contact list as well as some screen shots below.
Palin's account revealed after the jump
CONTACT LIST
Beth Leschper (Beth Leschper SOA) [Edit]
beth.leschper@alaska.gov
Blanche Kallstrom (Blanche) [Edit]
mbkrdk@starband.net
Bristol Palin (Bristol) [Edit]
bristol_palin@hotmail.com
Chuck Heath (Chuck) [Edit]
chckheath@yahoo.com
fek9wnr@yahoo.com (Todd) [Edit]
fek9wnr@yahoo.com
ftb907@yahoo.com (Frank) [Edit]
ftb907@yahoo.com
Heather Bruce (Heather) [Edit]
khbruce@gci.net
ivy.frye@alaska.gov (Ivy SOA) [Edit]
ivy.frye@alaska.gov
ivyfrye@yahoo.com (Ivy Personal) [Edit]
ivyfrye@yahoo.com
Judy Patrick (Judy Patrick) [Edit]
jpphoto@mtaonline.net
kris.perry@alaska.gov (Kris Perry SOA) [Edit]
kris.perry@alaska.gov
krisandclark@yahoo.com (Kris Personal) [Edit]
krisandclark@yahoo.com
paymckhea@yahoo.com (Molly) [Edit]
paymckhea@yahoo.com
Roseanne Hughes (Roseanne Hughes SOA) [Edit]
roseanne.hughes@alaska.gov
Sally Heath (Mom) [Edit]
salheath@mtaonline.net
Sean Parnell (Sean Personal) [Edit]
sparnell@alaska.com
Sharon Leighow (Sharon SOA) [Edit]
sharon.leighow@alaska.gov
Sleighow@aol.com (Sharon Leighow Personal) [Edit]
Sleighow@aol.com
Track Palin (Track) [Edit]
track_44@hotmail.com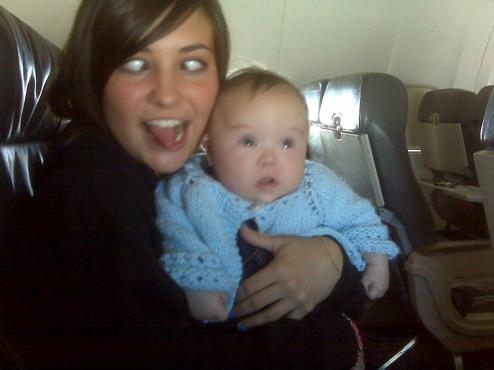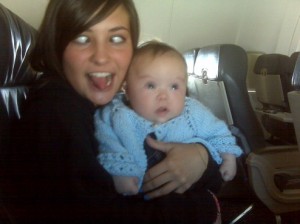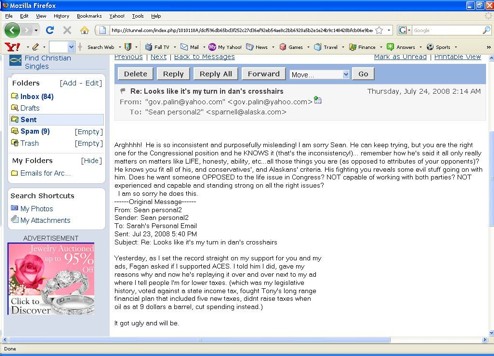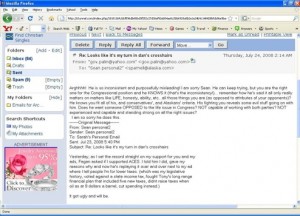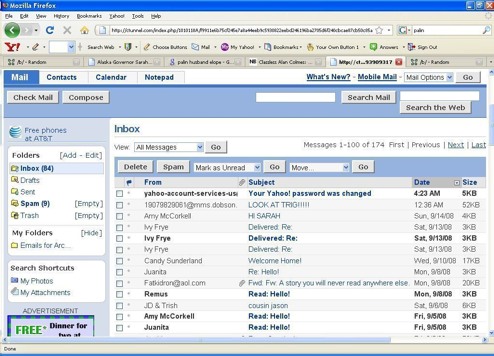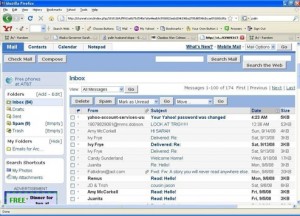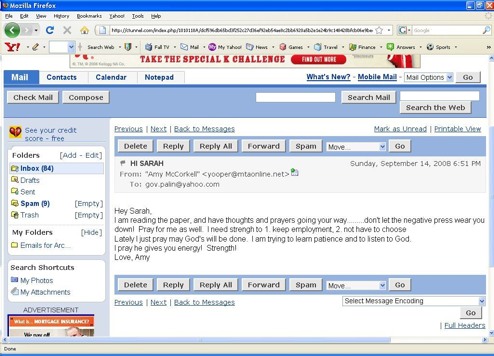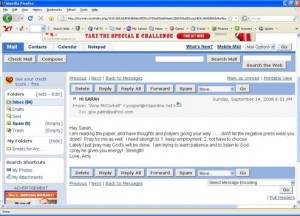 Head to Gawker for more shots and even more low down on the situation.