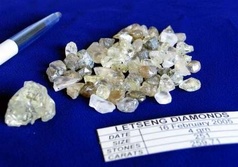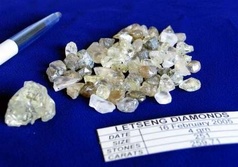 Miners in Lesotho have found one of the world's largest diamonds, a near-flawless white gem close to 500 carats.  It was discovered earlier this month and was thoroughly examined.  Experts in Antwerp say it weighs 478 carats, with very few inclusions, and of outstanding colour and clarity.
"It has the potential to yield one of the largest flawless D colour round polished diamonds in history," the company said.  The value's going to be more than $12 million, because a diamond with about the same weight was sold for $12 million, but its colour and clarity was not as great.
The world's largest diamond is the Cullinan, discovered in South Africa in 1905. It had 3,106.75 carats before it was cut into more than one hundred separate gems, many of which are part of the British crown jewels.
Talk about an extravagant wedding ring, fellas.
Source: reuters