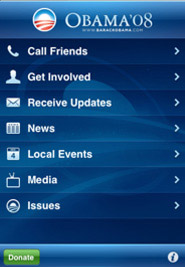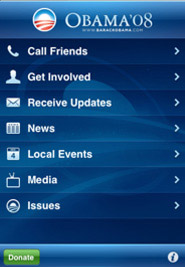 Leave it to the Obama campaign to make an iPhone app that does more than most of the other apps in the Apple Store.  You like repping the man of change, when you don't know anything about him?  Well, don't worry, because this app's got everything you need to convince your Independent neighbor to vote for Barack next month.  Check out the features and images below.
Features:
Call Friends: A great volunteering tool that lets you make a difference any time you want by talking to people you already know. Your contacts are prioritized by key battleground states, and you can make calls and organize results all in one place.
Call Stats: See nationwide Obama '08 Call Friends totals and find out how your call totals compare to leading callers.
Get Involved: Do more. Find and contact your local Obama for America HQ.
Receive Updates: Receive the latest news and announcements via text messages or email.
News: Browse complete coverage of national and local campaign news.
Local Events: Find local events, share by email and get maps and directions.
Media: Browse videos and photos from the campaign
Issues: Get clear facts about Barack Obama and Joe Biden's plan for essential issues facing Americans.
Obama '08 iPhone Application:
Head over to the
official website
to read more about it or go to the App Store right from your iPhone to download it.