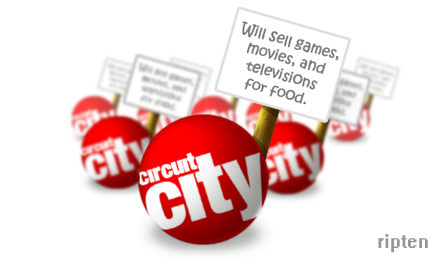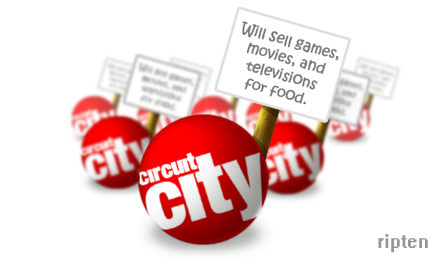 As if we weren't already pissed about how uneventful Best Buy's Black Friday ad was, Circuit City manages to be as disappointing in their own Black Friday ad.  I guess we should be happy with the fact that they're even around to see this year's Black Friday, no?  We're listing a few of the deals below.  We see the HP laptop that's been floating around at a few other stores, and BB's got it for 380 with 2GB RAM.  Click HERE for Circuit City's complete ad.
HP Pavilion 15.4″ Laptop (Intel DualCore T3200, 2GB, 160GB HD, Vista Home) – $399.99

Olympus 8 Mega Pixel Digital Camera – $99.99

Samsung 8 Mega Pixel Digital Camera – $79.99

SanDisk 4GB SDHC Memory Card – $12.99

SanDisk 8GB SDHC Memory Card – $19.99

SanDisk 1GB MP3 Player Express with FM Tuner – $16.99

Sony 30GB Hard Drive Handycam Camcorder with Bag & Extra Battery – $349.99

Samsung 42″ 720p Plasma HDTV – $699.99

Samsung 46″ 1080p LCD HDTV – $1099.99

Toshiba 32″ 720p LCD HDTV – $449.99
Thanks ProBargains!