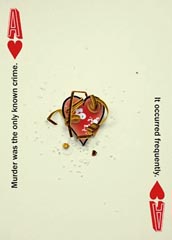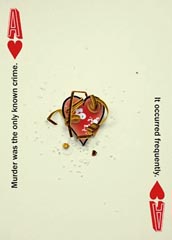 SFMOMA Architecture + Design Forum's newly commissioned design project, appropriately entitled Diaspora, accurately depicts Sin City in its most purest form. Pulitzer Prize-winning writer Michael Cunningham and dynamic graphic designer Martin Venezky teamed up for the double deck of artfully designed playing cards.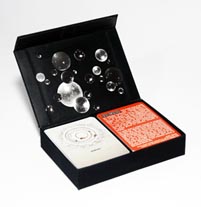 Here's what CoolHunting has to say on the collaborative effort:
Telling the tale of a double movement—humans fleeing the city and animals taking over what remains—the limited edition cards feature curious graphic images and one or two corresponding sentences designed so that each hand dealt tells a different story.
The cards come in a black linen embossed box and are limited to only 300 sets and are only available upon request for $88. Interested? Contact SFMOMA Architecture + Design Forum's Coordinator, Hayes Firestein: hfirestein at sfmoma dot org.