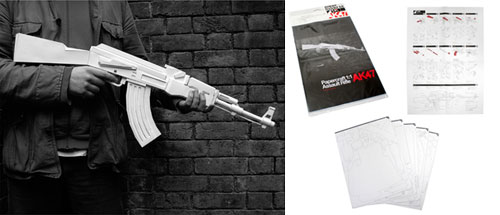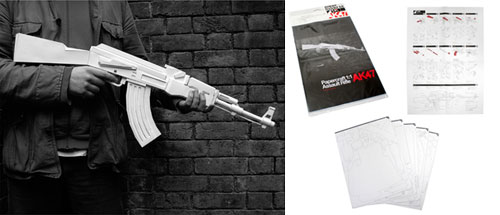 In Lord of War (starring Nicholas Cage), Yuri had this to say about the Awtomat Kalaschinkowa:  
It's the world's most popular assault rifle. A weapon all fighters love. An elegantly simple 9 pound amalgamation of forged steel and plywood. It doesn't break, jam, or overheat. It'll shoot whether it's covered in mud or filled with sand. 
Paper models are a means to create often complex three dimensional objects from flat sheets of paper. This kit by Martin Postle, includes everything you need to create a 1:1 model of a Awtomat Kalaschinkowa (AK47).
More images and audio clip of Yuri paying homage to the AK47 after the jump.
Buy the Paper Kit: $42.00