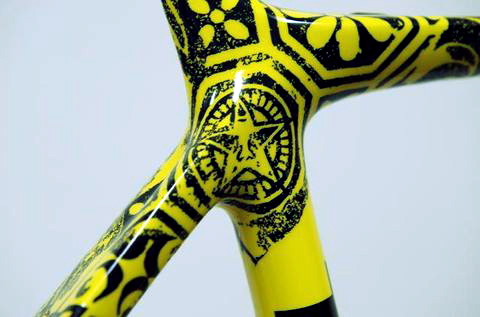 Shepard Fairey x Kenny Scharf x Lance Armstrong for Giro d'Italia: Trek art bikes
SuperTouch gives us a look at their Trek art bikes made exclusively for Lance Armstrong for his running in the Giro d'Italia. The world's most prestigious cycling stage race after the legendary Tour de France, the Giro is celebrating its 100th anniversary in 2009, coincidentally the first year Lance has ever entered the race.
Lending their formidable creative talents to the challenge, Shepard and Kenny created two vastly different and utterly unique cycles to draw attention to Lance's upcoming Nike-backed "Stages" anti-cancer art show benefiting LiveStrong that will debut on July 16th in Paris at Galerie Emmanuel Perrotin during the TDF.
More images after the jump.