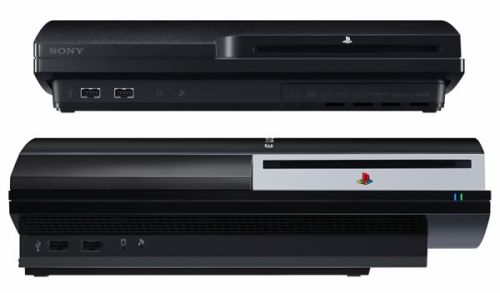 With all the rumors and speculations piling up, Sony's finally taken the veil off their slim PS3. It weighs less than the original and takes up 32 percent less space. It's also an energy saver, as it consumes 34 percent less power. The first week of September's looking great, as North America, Europe and Japan will all be getting the opportunity to grab one. It'll retail for $300 (or 300 Euro, or 29,980 Yen) with a 120 HDD and all the same features as the original.
If you do happen to have the original PS3, then expect your eBay value to drop as MSRPs on all original SKUs as prices are being cut by $100 on each model. Engadget explains, "The new 3.0 firmware will be released concurrently with the PS3 slim, which should provide a breath of fresh air for existing machines. Other new features of the PS3 slim include BRAVIA Sync, which allows you to control the PS3 XMB over HDMI through your BRAVIA TV remote, and System Standby to shut off the PS3 when the BRAVIA TV is off. Sony also claims this new machine will run more quietly than existing PS3 systems." 
More views and specs after the jump. 
Specs:

Product name: PlayStation 3
Product code: CECH-2000A (Charcoal Black)
CPU: Cell Broadband Engine™
GPU: RSX
Audio output: LPCM 7.1ch, Dolby Digital, Dolby Digital Plus, Dolby TrueHD, DTS, DTS-HD, AAC.
Memory: 256MB XDR Main RAM, 256MB GDDR3 VRAM
Hard disk: 120GB 2.5″ Serial ATA
USB 2.0 ports: 2
Networking: Ethernet (10BASE-T, 100BASE-TX, 1000BASE-T), IEEE 802.11 b/g, Bluetooth 2.0 (+EDR)
Controller: Wireless Controller (Bluetooth) x 1
AV outputs: HDMI x 1, AV MULTI OUT x 1, Digital out (optical) x 1
Resolutions: 1080p, 1080i, 720p, 480p, 480i (for PAL 576p, 576i)
BD / DVD / CD drive (read only): BD × 2 (BD-ROM), DVD × 8 (DVD-ROM), CD × 24 (CD-ROM)
Power: AC 220 – 240, 50/60Hz
Power consumption: Approx. 250W
External dimensions (excluding maximum projecting part): Approx. 290 × 65 × 290 mm (width × height × length)
Mass: Approx. 3.2kg
Included in box: PlayStation 3 system × 1, Wireless Controller (DUALSHOCK 3) × 1, AC power cord × 1, AV cable × 1, USB cable × 1