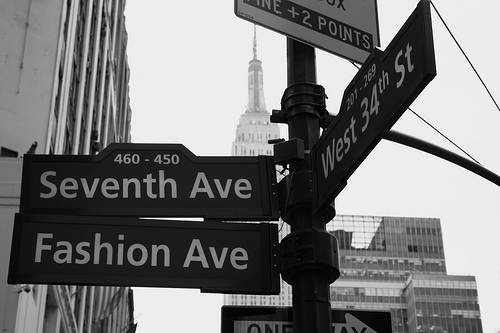 We hate to be so biased but most of the best places to shop are in NYC, hence why the best deals are there also. We've compiled a list of the best places to go come Friday morning (or should we say Thursday night). Also, we've added in some online deals as well, because why should we have to wait for Cyber Monday?
Hit the jump for the complete list. 
7 For All Mankind – 394 W. Broadway, nr. Broome St. 11/25-12/12.
Spend $200, get $25 off; spend $300, get $50 off; spend $500, get $100 off.
Billy Reid – 54 Bond St., nr. Bowery. 11/27-11/29.
$100 gift card for every $500 spent. All merchandise is eligible. Gift-wrapping station and hot apple cider offered.
Gargyle -16 Orchard St., nr. Canal St. 11/27 only (11am – 7pm).
20 percent off entire purchase, current season and sale items included. The one-day pop-up record shop, featuring hundreds of disco, post-punk, house and techno records.
H&M – Various Location. 11/27 only.
25 percent off an item of your choice before 10 a.m., apparel and accessories included.
John Varvatos – 315 Bowery, nr. Bleecker St. & 122 Spring St., nr. Greene St. 11/27 – 11/29
Select menswear and accessories are 30 percent off including the Ago laceless boots which are going for $315 (originally $315).
Oak – 28 Bond St., nr. Lafayette St. & 208 N. 8th St., nr. Driggs Ave., Williamsburg, Brooklyn. 11/26 – 11/30.
Clothing and shoes are 20 percent off.
Hickey Freeman – Various Locations.
Fall sportswear and dress shirts up to 40 percent off.
Opening Ceremony – 35 Howard St., nr. Broadway. 11/27 – 12/11.
Select menswear and accessories from F/W 2009 are 30 to 50 percent off.
Tommy Hilfiger – Various Locations. 11/27 – 11/29
20 percent off purchases of $150 or more, 30 percent off purchases of $300 or more, 40 percent off purchases of $500 or more.
Uniqlo -546 Broadway, nr. Spring St. 11/27 – 12/21.
Brand's 25th anniversary festivities, with Uniqlo featuring different shopping promotions every day for 25 days, beginning with Black Friday. On Friday, Men's cashmere is $59.90 (originally $99.50).
Woodbury Commons Premium Outlets – 498 Red Apple Court, Central Valley, NY. 11/27 – 11/29.
Not in NYC but it's worth the 30 minute drive. The fun officially begins Friday at midnight, but select shops open doors as early as 9pm Thanksgiving Day. Traffic heading north to Central Valley will be horrendous, as locals (and non-locals alike) know what's happening at midnight. Eat fast, and make your way early if you want a shot. There's a whole lot going on including deals at the Hickey Freeman shop with suits as low as $499.99.
Websites
ssense.com – Now – 11/27
30% off storewide, using coupon code SSENSEBF at checkout.
We'll be updating this post continuously over the  next few days, so we suggest you bookmark this page or follow us on twitter to make sure you're up-to-date. If there's something you know about that we don't let us know!