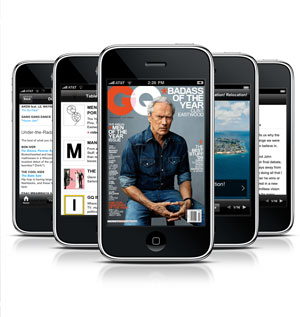 The whole world's gone digital but I've never stopped subscribing to GQ Magazine. Why? Not sure, actually. Maybe because it's iconic, or the fact that it's always up-to-date even when guys like us are reporting on a daily basis. And yes, the ads. I still love checking out Tom Ford's new campaigns in between an article about the next must-have blazer and the new It girl. It's a good supplement. Especially, for a train ride or something.
Well, Conde Nast is no fool. With the mobile market on the rise, they will be launching issues through the App Store, at $2.99 per issue compared to the 4 or 5 bucks you might pay at the newsstand. It's got all the pages, all the ads plus in page links to the items your drooling over. It's robust and while I don't see myself stopping my subscription, I will surely pick this up for more discreet and convenient viewing in the office or during my trips.
The first issue is in the App Store now, December 2009 – The Men of the Year Issue. That spread we turned you to of Gossip Girl's Leighton Meester is in this issue. Reason enough, I think.
Update – GQ's informed us that once the content has downloaded, it's available for offline viewing. Perfect for the frequent travelers out there.
Buy It: $2.99 at App Store (iTunes Link)