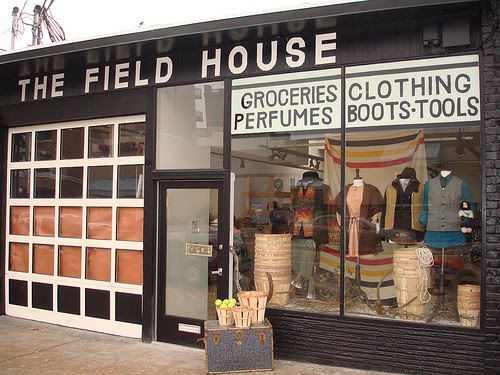 Blackbird, Seattle's finest retail shop, has just launched The Field House, a 3-month pop-up in the heart of the city's Ballard neighborhood. "The Field House is reminiscent of general stores that were once at the heart of rural towns across America. Its shelves are stocked with a wide variety of merchandise, including classic work wear, vintage goods, basic groceries and candies, flowers, and perfumes and candles. It captures the history, geography, and folklore of times past, when goods were less disposable and had more meaning, a time when people canned their own food and took a moment to converse with strangers." The store will sell Christmas trees for the holidays and will serve a "cup-a-joe" from an insulated Stanley thermos.
Labels for men and women on-hand include RRL, Filson, Pendleton, Woolrich Woolen Mills, Alden and April 77 to name a few. As said before, the shop is a 3-month experiment at which point Blackbird will decide whether to make it a permanent part of the neighborhood. The shop's located at 5465 Leary Avenue NW in Seattle, and will be open from 10am to 7pm daily.
More images after the jump.