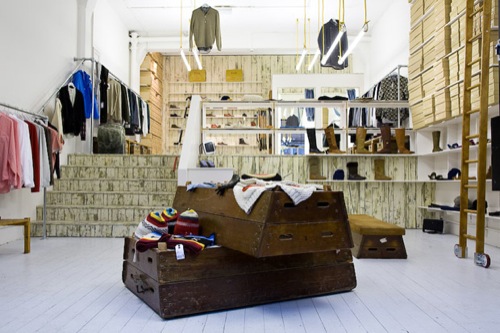 Hypebeast turns us to the opening of Folk/Shofolk's flagship store on Lambs Conduit Street in London. "The retail space includes two floors spread out over 1,000 sq feet with a nicely lit interior. A handful of other brands will also share the racks with Folk and Shofolk including Feiyue footwear and Hill-side ties."
Full detail and images after the jump. 
Folk has opened its second store in the Old Truman Brewery in the East end of London.

Over two floors, the 1000 square foot store takes many of the design features from its flagship store on Lambs Conduit Street providing a complementary environment to Folk's menswear range and shoes for men and ladies. The attention to detail and quirky touches that defines the product is evident throughout the store with rope hung strip lights running the full length of the store, reclaimed wood clads the back walls and stairs and marble heads designed by acclaimed sculptor Paul Van Stone provide a novel approach to seating.

The 12 foot ceilings are used to their full benefit with one wall in the store having floor to ceiling storage for the shoe range with an old library style ladder providing access. The use of an old gym horse for seating and display in the back of the store and colourful milk churns for seating give a nod to Folk's tongue in cheek attitude. Fold out benches on either side of the entrance complements the welcoming approach as does there being no counter to split the staff from the public with customers paying via handheld card machines.

In addition to its own collections the store will stock selected other brands including Humanoid, Sessun and Won Hundred for Women and Hill-side ties and Feiyue sneakers for men.

Folk hopes to replicate the success of their Lambs Conduit Street store that has recently been awarded the UK's best independent fashion store in the Telegraph shop awards.

There will be a formal launch of the store in the new year to coincide with the delivery of the Spring Summer 2010 collection.