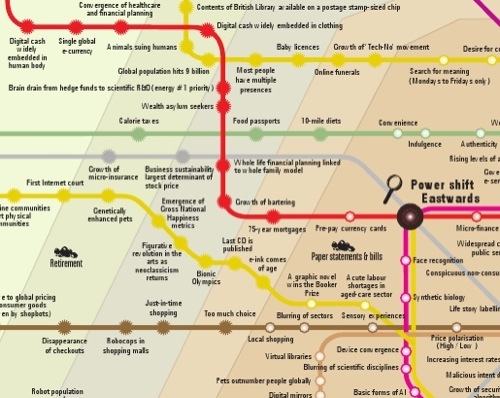 With 2009 coming to an end, we look forward to 2010 (and beyond) to be as exciting and eventful as years past. Time Travel map was developed by Richard Watson at Nowandnext.com with some help from Benjamin Frazer at Snap, giving us a look at what the future may hold.
Note: "Improvement works are carried out at weekends and travellers should check to see whether lines are still operable before commencing any journeys. Helpful suggestions concerning new routes and excursions are always welcome. If you wish to travel outside of Zone 1 you are advised to bring comfy shoes and a camera. Travellers are also advised to bring their own supplies of food and water although weapons are unnecessary if you keep to well trodden paths. Also note that travel into Zone 5 is not available for people aged over 75 years of age."
See the full A3 pdf version at Nowandnext.com.