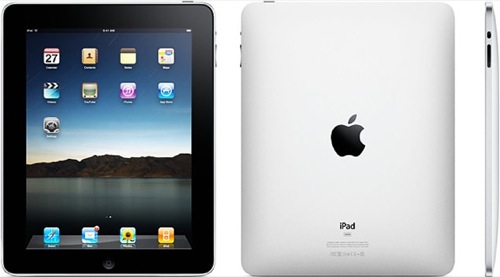 The boys in Cupertino have finally officially taken the covers off their newest device. It'll be called the iPad, a name that's been floating around for quite sometime. It looks great. The body's slim, looks pretty comfy in Jobs' hands. The OS is like an exploded version of the iPhone's with a few cool features like ability to view YouTube in HD and an email interface with some enhanced aesthetics. Landscape and portrait view are enabled in the majority of uses. You've got maps, calendars, built-in iTunes Store, and iPhoto integration with events, places and faces. Movies, TV shows, music videos, audiobooks, just about everything you can watch on your iPhone, you can access through this beauty.
Hardware specs – 1.5 lbs., 0.5 inch thick with a 9.7 inch display, full capacitive multitouch, all powered by the 1GHz Apple A4 chip. Storage can be from 16GB to 64GB of flash memory. The usual suspects are all here – bluetooth 2.1 EDR, accelerometer, compass, WiFi 802.11n, microphone, and speaker. The iPad has a 10-hour battery life with a month of standby time. Wow.
All your iPhone apps will run on the iPad but devs are given the tools to make an optimized version for the new tablet. An ebook reader app called "iBooks" really takes what Amazon pioneered to a whole new level. iWorks looks pretty robust so at the time of launch, it will definitely be a crucial selling point.
The cost: data plans will run you $15 for 250MB of transfer a month over 3G from AT&T or $30 a month for unlimited, much lower than laptop plans that cost about $60/month. AT&T will also let you use the Wi-Fi hotspots for free. The cooler thing is there's no contract, it's prepaid and you cancel anytime and is activated through the iPad itself. All iPad 3G models are unlocked, and they use GSM micro SIMs, so if your carrier offers micro SIMs, "they'll just work."
Price for the iPad starts at $499 and runs up to $829, much lower than what the masses expected or guessed. $499 is for the WiFi model (no 3G) with 16GB of flash storage and for a 3G enabled model, the lowest price is $629. 32GB for $599 and 64GB for $699 on WiFi only models, while $729 and $829 respectively for 3G enabled models.
In 60 days, the WiFi models will start shipping, while an extra 30 days for the 3G models will be needed.