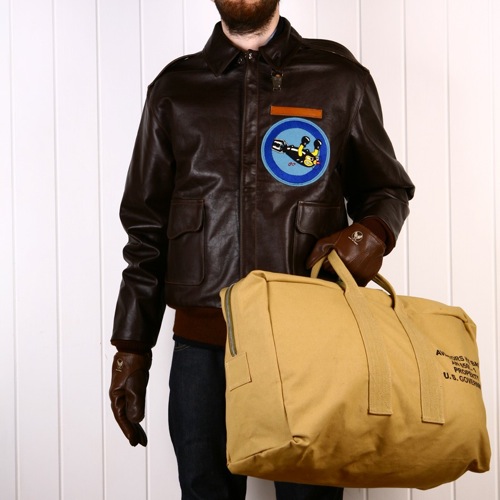 Up for pre-order now at Oi Polloi is the Aviator Pack from Eastman Leather and Heritage Research. Included in the kit is the A-2 Flight Jacket, A-10 gloves, and Avitaors Kit Bag, all supplied in authentic wartime issue packaging.
The Aviator Kit Bag is made from a strong 100% cotton OD canvas, this is an exact copy of the original WWII USAAF aviators kit bag, in the early war pale OD shade. The A-2 Flight Jacket happens to be an exact replica down to the finest detail. It's made from vegetable tanned Steerhide in an authentic Seal Brown finish. Other features include 100% plain weave cotton lining, dull nickel collar hook, and 100% wool tubular woven rib.
The Aviator Pack is available for pre-order now for approx. $1360, with delivery to take place in mid-March.
More detail looks at the pieces after the jump.