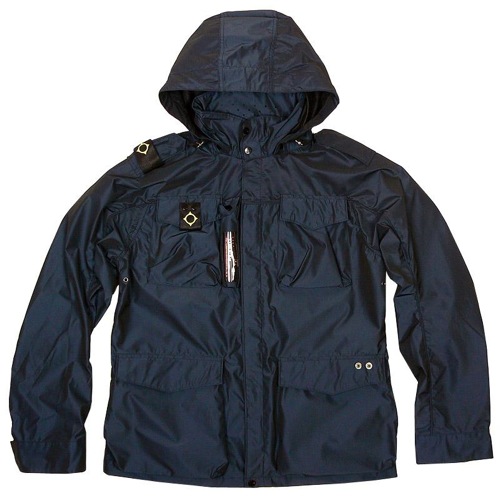 Inspired by the archive of legendary Italian designer Massimo Osti, Ma.Strum launched last season with a great lineup that took Osti's classic creativity and blended it with modern high-tech fabrics and design. For Spring/Summer 2010, the label continues to use Massimo's archives as a foundation, while taking a more naval direction. The result is an array of products including, but not limited to, swimwear, cargo pants (yes unfortunately they're back), and three military carbon-coated bags. This field jacket happens to be one of our favorites actually, as it's a returning style fitted with a new shell.
The jacket is made from cross dyed Polyester, this is waterproof and windproof but also gives a two-tone colour effect depending on the angle viewed. The jacket also includes a solar powered torch, and as with the CP Company Urban Protection design that inspired this jacket, the torch is attached at the chest so it can be easily accessed.
More info and images after the jump.
Buy It: ~ $520 at EndClothing