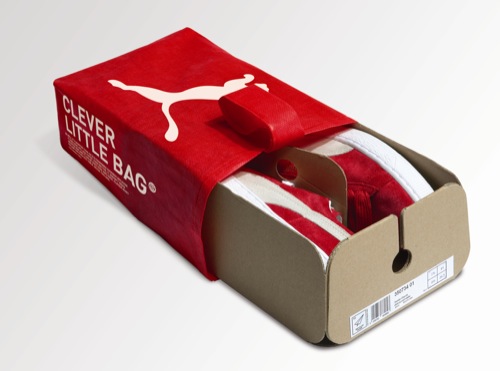 While PUMA is known for their forward-thinking footwear designs, not many envisioned them being the pioneers of the shoe box as well. Well, they've unveiled the "Clever Little Bag" shoe box design, which looks to bridge the gap between design and sustainability. The bag is designed by Yves Behar and was unveiled this week at the Design Museum in London, England. It doubles as a reusable bag for shoes and PUMA says using this will reduce paper consumption by 65 percent and carbon emissions by roughly 10 tons per year.
The Clever Little Bag is only a piece of PUMA's overall environmental-sustainability-project puzzle. The company has set a goal to reduce the amount of energy and water used in company offices and factories by 25 percent, while also and cutting waste by the same percentage.
Video after the jump.