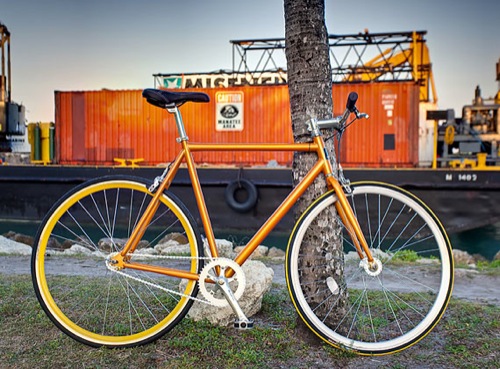 We've seen plenty of shops giving consumers the ability to customize bicycles, but we didn't expect it from retailer Urban Outfitters. Ben and company over at Gear Patrol tell us UO's teamed up with Republic Bike Inc. (who do know a thing or two about bike making) to deliver Bikes.urbanoutfitters.com. Through the site, "Users can easily customize a basic Aristotle v1.5 single speed bike in a variety of ways to make it their own. First and foremost, the bike features a fixed/free hub, so it can be changed into a fixed or free bike by simply flipping the rear wheel around. Other components of the bike include: a Sugino crankset, Wellgo pedals, a painted chain, and 110mm grips."
You're given the ability to pick the color of everything from your seat to the the tires and pedals. For a measly $399, you'll get a bike shipped to you (90% built by Republic Bike) fully customized to your liking. When it arrives in a secure package, all you have to do is attach the pedals, front wheel, handlebars, and do some basic ride adjustments.
For a gallery of possibilities to get your creative juices flowing, head to Gear Patrol.