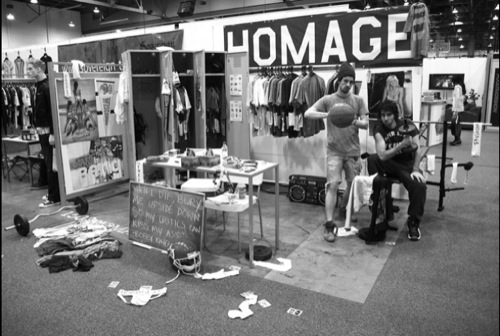 Ohio-based t-shirt maker Homage has really been gaining ground as of late. Either that or we're really late to the party. I was turned to Homage about two months ago, and since then, I've picked up a few tees from their online shop. The goods are solid, folks, as the brand's not only dishing out creative designs, but the tees themselves are made (in the US) of a high quality cotton/poly/rayon blend that's soft to the touch extremely wearable even during this sweltering heat. 
Homage turns back the clock with shout outs to eclectic moments and personalities in sports, music, politics and popular culture. From Bruce Lee to Larry Bird, our tees tell stories of triumph, individualism and hustle, preserving the old school and creating new legacies.
When dealing with many online shops, you're left to worry about return policies, customer service and whether what you ordered will actually be everything it's made out to be online. With Homage, all those worries really go out the window. After making my first purchase, I realized I needed to grab a medium (consult their size chart first, folks, error on my part) instead of a small. I sent the tees back and once they received them, the shirts in medium landed on my doorstep in two business days. My most recent purchase was just as solid. The order was placed on a Friday and the tees were in hand the following Monday. Need I say more?
Head to Homage to see what's new, as they've added a bunch of new tees for the summer. Use coupon code "SUMMER" for a cool 15% off your order.