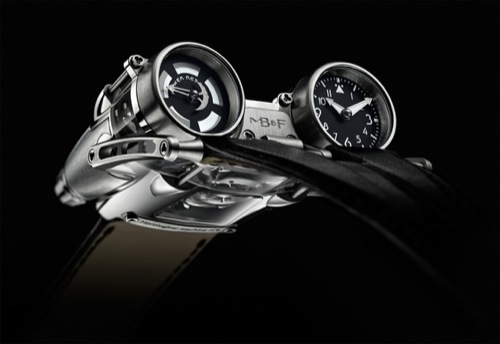 MB&F Horological Machine No. 4 Thunderbolt [HM4]
The good folks at Hodinkee turn us to MB&F's latest creation, the Horological Machine No. 4 Thunderbolt, a wondrous beauty that looks to alter our views on future watch design. So how's it all work, you ask? "The watch consists of two dials that sit side-by-side. One displays the hours and minutes (read as a plane's speedometer), and the other displays the engine's power reserve (aka the plane's fuel levels)." The construction is unique as both dials are displayed at the end of a turbine like pod, opposite individual crowns, which means one crown's for setting the time and the other is for winding the engine.
The HM4's engine is three years in the making, with 311 parts and converts power from a horizontal dual mainspring barrel to two vertically oriented gear trains to display on the dials. The 5 pieces of sapphire glass used on the HM4 cost more than the entire HM2, so needless to say this timepiece is raising the bar.
The pricetag's been upped as well, to $158,000, so look for it to release later this year. Until then, head to Hodinkee for tech specs and more details.
More images after the jump.