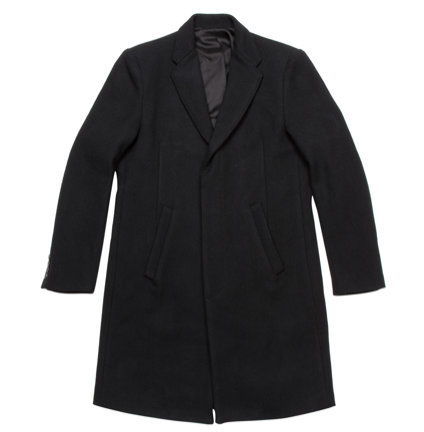 I recently had the chance to visit Colin, manager of Odin New York's SoHo location. The man really knows alot about the shop's offerings and the men's market in general. I got a wiff of Odin's lineup of fragrances, including their newest addition to the stable, 04 Petrana. Plenty of boxes were being cracked open as fall lines had begun making their way into the store. Colin showed off a few items from the Florsheim x Duckie Brown collaboration as well as Burkman Brothers' finest pieces. Though I felt like a kid in a candy shop, I couldn't help but to gravitate towards this well-crafted long coat on sight.
For anyone not familiar, Edward is a made-in-USA collaboration between Duckie Brown and Odin New York. We're talking clean designs and the utilization of some top-notch fabrics. This wool coat plays the tune really well, as it's versatile, well-crafted and will surely be a go-to piece in your fall wardrobe. The enticing price point is just icing on the cake.
More info and images after the jump.
Buy It: $650 at Odin New York