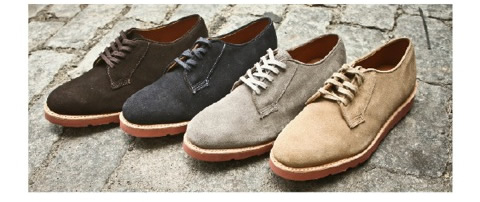 We get the opportunity to cover plenty of amazing, highly notables brands here at Por Homme, and usually on a regular basis. Once in a while though, we come across a brand that's so underrated it's ridiculous. Gorilla USA is an American Boot Company that's been around since 1906 and has all the pieces from its collections made in Pennsylvania by union workers. The Japan and Canada markets got a heavy dose of the brand throughout the 1990s and I think it's about time it get some recognition here at home.
Gorilla's Spring/Summer 2011 collection is looking pretty promising, with a wide range of wearable footwear. We're personally loving the studded wingtips made of harness leather as well as the wedge buck, which is available in four suede varieties, each placed atop a red wedge sole.
If you want to check out some of Gorilla's fall collection in person, stop in at select Barneys locations or visit Gorilla's shop at 359 Lafayette Street in NYC.
Complete looks from the lookbook after the jump.