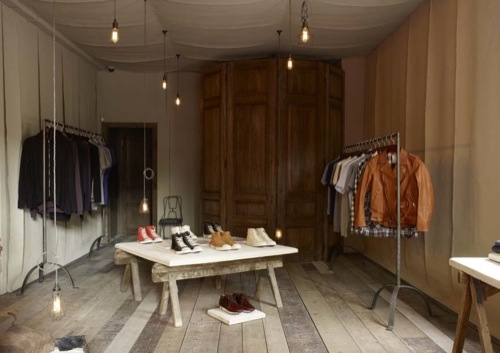 London's Shoreditch district recently welcomed a new retail shop for men to their blocks. Hostem is quite different from London's other offerings in this spectrum as it looks to bring together an eclectic mix of brands and styles to really deliver something the city's seldom seen as of late.
The interior is broken down into essentially three rooms, each bringing along its own shopping experience. The first room springs up neutral chalky tones with concrete plinths to display footwear and also house the Hostem essentials. You'll find cool digs from the likes of The Elder Statesman and Damir Doma in this area. the second room is a more intimate space, with low swooping ceilings and carefully upholstered walls. Ann Demeulemeester and Rick Owens are placed alongside MA+ and Julius as well as plenty others. The third space is a concept unique to the store as it serves up as an area in which visiting designers will be invited to take up residence on a short-term basis.
Other standout labels to be offered at Hostem include Visvim, Creep, Mastermind Japan, 3.1 Phillip Lim, as well as Odyn Voyk and Stussy.
More images of Hostem after the jump. 
Hostem
41-43 Redchurch Street
London, E2 7DJ
+44 (0) 20 7739 9733