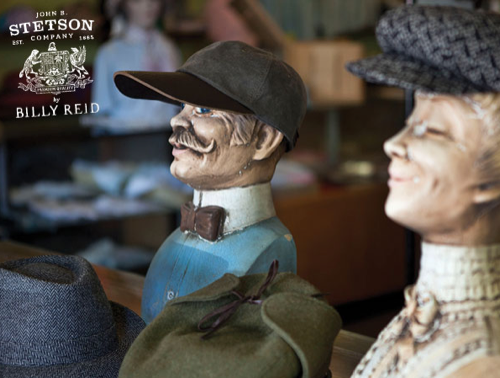 For the past 130 plus years, the John B. Stetson company has been crafting high-quality, extremely functional hats. The longevity of the brand is a testament to the iconic brand's dedication to detail and consistent design ethos. For the fall, they've linked up with Billy Reid for eleven hats for men, women and some for both.
The collection ranges from dead stock wool fedoras, nutria constructed trapper toboggans, to English driving caps with leather tie secured convertible ear flaps. Our favorite is the Conway, a waxed cotton fishing cap with a distressed leather live cut raw edge bill. It's lined with heirloom pillow ticking and the interior drop-down convertible ear flap is lined in wool tweed jacquard for added warmth.
The collection is available now at Billy Reid.