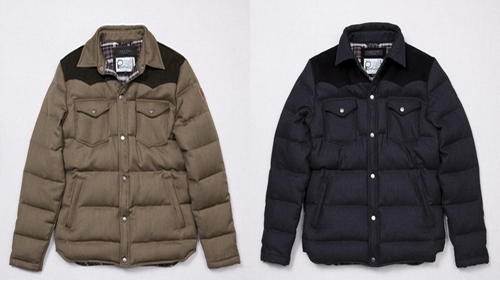 On the heels of its 35th Anniversary year, Penfield has teamed up with rag & bone for a brand new, limited edition set of two men's winter coats for Holiday 2010. The Penfield for rag & bone Mallory down jacket is based on Penfield's classic Rockford silhouette and comes in two colorways, with updated fabrication and subtle design details created to complement and combine both brands' distinctive, rugged aesthetic.
The Mallory's available in black thornproof wool with contrasting corduroy shoulder yoke in black as well as a deep khaki shell with a dark olive cord shoulder yoke. Both jackets are lined with brown plaid, two front chest pockets, two lower welt pockets and custom co-branding on the inside.
Look for the Mallory jackets to hit select shops worldwide later this month and retail for $695 each. Some of the spots to find it include all rag & bone boutiques in NYC, their Tokyo flagship, Colette in Paris as well as online at Oki-Ni. This isn't the first time the two iconic labels have teamed up and from looking at their success in the past, we doubt it'll be the last.