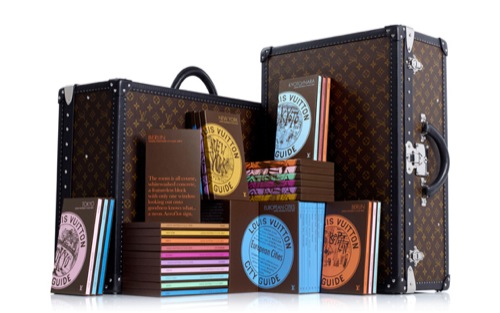 Louis Vuitton has been helping travelers get to their destination since 1854, and hold a true connection with travel ever since they unveiled their first modern trunk. Their dedication to the segment continues with the new edition of Louis Vuitton City Guides, a collection of fluorescent postcards created by artist Ruben Toledo, which highlight the best in food, art, design and fashion in several of the world's most notable cities.
Louis Vuitton is honouring artist Ruben Toledo's work with the release of a collector's set of 100 postcards in fluorescent colours, a real retrospective of the illustrations created for the Louis Vuitton City Guides since 1998. The Postcard Box celebrates the 100 illustrations Toledo has created for the Louis Vuitton City Guides, images that capture in paint the guides' distinct vision of travel and passion for detail.
The 2011 lineup adds a few cities to the stable including Berlin, Kyoto and Nara alongside London, Los Angeles, Paris, Rome, New York and Tokyo. The European City box set is adding seven new destinations to its map: Beirut, Courchevel, Gstaad, Oxford, Palma, Poto Cervo and Thessaloniki.
Alongside the guide books are two-minute clips which outline some of the key destinations for each city. We've got New York City after the jump.