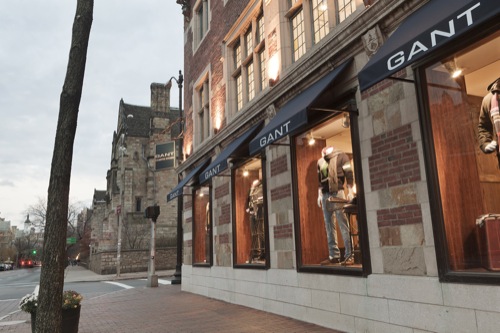 This past week, Gant cut the ribbon and opened the doors to its first-ever Gant Campus Store in New Haven, CT. We've been hearing about it for quite sometime now but glad to see those preppy Yale students don't have to wait until after Thanksgiving break to check it out. The aesthetics of the shop blend well with the surrounding campus and the building itself is pretty epic as well. It was built back in 1910 as Langrock Fine Clothes, a men's department store.
The shop carries curated collections of Gant, Gant Rugger, Gant by Michael Bastian, and a resurrected Yale Co-Op branded shirt collection that will be available March 1st, online and in-store. The Co-Op shirts recreated what the iconic brand used to manufacture for Yale's famous bookstore during the 60s and the new Campus Store actually features a glass case as you enter that showcases vintage Yale Co-Op shirts and plenty of other historic Gant imagery.
As you'll see from the shots after the jump, the store on the inside is really well-designed and blends well with the historic town's overall feel and culture. You'll notice some great touches like the vintage lighting and a chalkboard turned dressing room mirror. All the furniture and casements are locally sourced antiques, which really shows the time and dedication Gant put into making this shop unique and special.
268 York St at Elm St New Haven, CT 203-776-1949