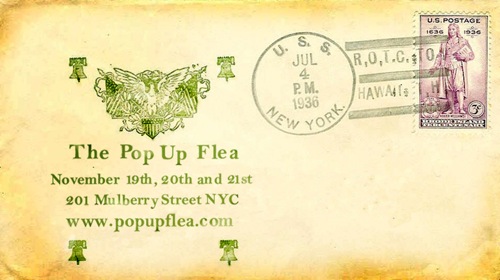 Michael Williams of ACL and Randy Goldberg of Urban Daddy are bringing back The Pop Up Flea to NYC this coming weekend, and it's looking more grand than ever. The list of brands has increased tremendously since the last time around so expect even more great items and even more exclusives. The majority of items are said to be brand new but there will be some vintage stuff thrown into the mix by some of the brands as well.
Vendors include Oak Street Bootmakers, J.W Hulme, Levi's Vintage Clothing, L.L. Bean Signature, Smith + Butler, Tellason, Billykirk, Aether, Tanner Goods, Scout Original, Wooden Sleepers, Riviera Club, Alexander Olch, Gant, Oliver Spencer, The Hill-Side / Hickoree's Hard Goods, Grown & Sewn, Stanley & Sons, J.Crew, Gitman Brothers Vintage, Schott NYC, Digby & Iona, Alexander West, Leather Head / Lemon Ball, Mark McNairy and a few others that have yet to be unveiled.
The Pop Up Flea will be located at Openhouse Gallery at 201 Mulberry Street (btw Spring and Kenmare) in New York City from the 19th of November til the 21st. Hours of operation are: Friday November 19th (3-9pm), Saturday the 20th (11am-7pm) and Sunday the 21st (11am-6pm).
All-in-all, it's going to be a sick lineup. There are brands here that we seldom get an opportunity to see in person, even in New York City, so we're pretty excited.