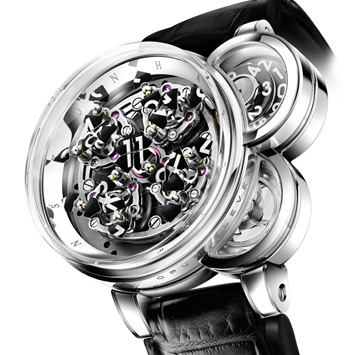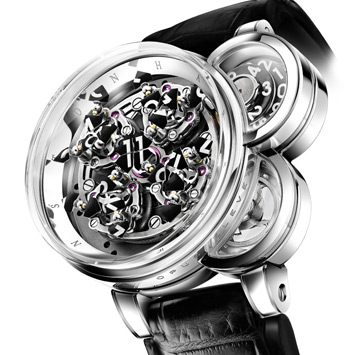 Hodinkee wasn't playing around this year at Basel 2011. The folks really dropped some epic coverage, including this piece on the Harry Winston Opus Eleven. The functionality of this timepiece is magnificent but how it came to be is no easy feat.

Every 60 minutes, the numeral of the hour, assembled in the center of the circle, explodes into chaos before instantly reassembling as the new hour. It then remains still until the next disintegration. Instead of a hand, 24 placards revolve and rotate on a complicated system of gears mounted on an epicycloidal gear-train. Four satellites mounted on a rotating platform, each with three pairs of placards, provide a vertical transmission through a train of eight intermediate wheels, three elliptical gears, a triangular wheel, and six conical pinions.
Harry Winston's latest creation comes in a white gold case with an open back which lets you peek at the 566 components and a blistering 155 jewels. As far as availability, only 111 watches will be made in total – 100 in white gold as pictured, and 11 as pictured with diamonds while prices are set at $230,000 for the standard model and $289,000 with baguettes.
Check out the video of the Opus Eleven in action below to get a better understanding of this timepiece from Harry Winston.