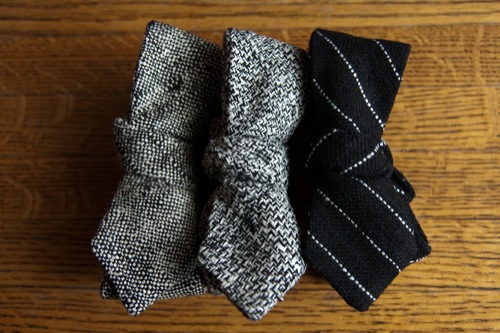 For this editorial, Por Homme teamed up with up-and-coming online catalog, Two Inch Cuffs. Our teams worked closely together to ensure the contents of this piece were fitting of our independent yet fairly similar voices. Much thanks to Ruben Hughes of Two Inch Cuffs. Photography by Paul Wax.
We had the opportunity to meet New York based designer Alexander Olch a few months back and all eyes were on the man's necktie. He was sporting a raw silk tie that was due to drop this season and now that his Spring 2011 collection is out at select stockists, we wanted to shed light on some of our favorite pieces from the lineup. The raw silk material is unique as not many designers have taken their stab at it and also because the texture allows it to be worn year 'round. The Olch has been downright flawless ever since he entered the industry a few years back and this season's collection reaffirms this.
The raw silk neckwear comes in both bowtie and necktie varieties.
Alexander Olch is available at select stockists, complete listing here.

Click through for more detail shots of the neckwear