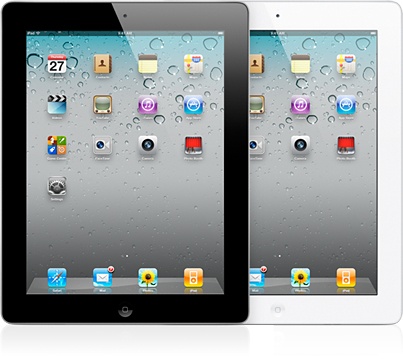 Apple finally took the covers off the second coming of their extremely popular iPad tablet. It's actually been one of their most successful post-PC products to date and with good reason. It's one of Apple's more affordable products with a starting price of $499 and it's super portable. The iPad 2 is lighter and faster than its predecessor and it packs some new features which we've been demanding since before the original iPad even dropped. So what's changed? The design's been tweaked as the iPad 2 is 33 percent thinner and weighs only 1.3 pounds. The beauty now houses a dual core processor chip dubbed the A5 for up to nine times the performance speeds.
This time around, Apple's giving us a few more options. The iPad 2 will come in a white or black shell, and if we opt for the 3G version, we'll also get to choose which carrier with which we want the device to be compatible. It's really a double-edged sword now that I think about it as you'll have to basically pick Verizon or AT&T from the start unless you're willing to buy another iPad 2 in case you change your mind. Oh, did we mention the front and rear cameras? Yep, finally got those. The back camera's capable of recording 720p video at 30 fps while the front camera is VGA. The FaceTime app is already installed on ship, yes!
The Apple iPad 2 will drop next week on March 11th in the United States from Apple, Best Buy and a few other choice retailers. Prices haven't changed but be sure to check out Apple to see the pricing structure for both the WiFi only and WiFi + 3G models.