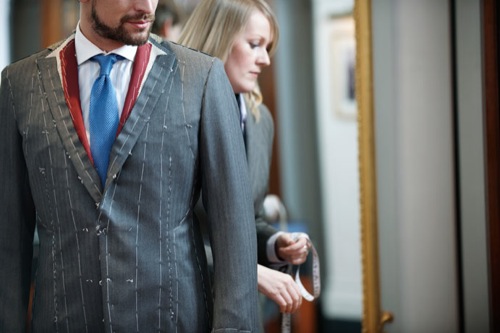 If you've ever been interested in bespoke tailoring, nothing beats the tailors at London's historical Savile Row. Most of us may not be able to make a trip over the pond to pursue this but what if they could come to you? Gieves & Hawkes at No 1 Savile Row are turning this dream into a reality with three trunk shows for 2011 with visits spanning across Los Angeles, Chicago and New York. For reference sake, Gieves & Hawkes has some elite clientele including Bill Clinton, David Beckham, and one-half of the current Royal Wedding, Prince William.
So what's an appointment at one of these meets entail? You'll first have the opportunity to talk to an experienced consultant so that you understand all your bespoke requirements. The Head Cutter, the first Lady Head Cutter in the history of Savile Row will be there to offer assistance. Proceed to picking from a vast array of cloths and final style mock ups.
Upon their return to London, the creation of the garment will begin by drafting your individual pattern which will be kept for you at Savile Row. A team of gifted artists ranging from mast coat makers, trouser makers, waistcoat makers, tailors, trimmers, finishers and predates will be working on your piece, all under the supervision of the Head Cutter. This will be followed by four fittings for a new client which will hopefully birth your very own Gieves & Hawkes bespoke suit.
Dates and locations below.
Los Angeles: The Beverly Hilton, Wiltshire Blvd.
March 9, June 22, October 12
Chicago: The Intercontinental, Michigan Ave.
March 11 & 12, June 24 & 25, October 14 & 15
New York: The Plaza, New York
March 14-16, June 27-29, October 17-19