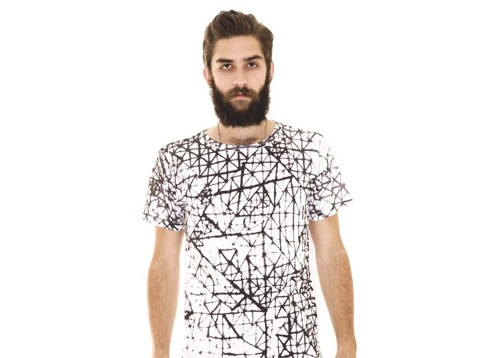 Comune 'Drop City' T-Shirt by Devendra Banhart
Comune's Drop City program adds Devendra Banhart to the mix for Fall 2011 with the creation of this original piece of art. Rather then placing a complete piece work on the front of a shirt, COMUNE worked with Banhart on using an exploded view of a smaller section creating a more organic pattern to the print. For those not familiar with Devendra Banhart, the LA-based singer songwriter has been igniting the music world for almost a decade. He's no one-trick pony, as his other talents extend to drawing, painting and even curating both domestic and international arts shows.
This specific piece is really well-designed with Banhart citing ancient alchemist H. Pee as an inspiration for his experiment with space and shape. The redundant mix of fixed color planes converge to create order out of chaos and derive a "spatial experience" seen primarily in late cubism.