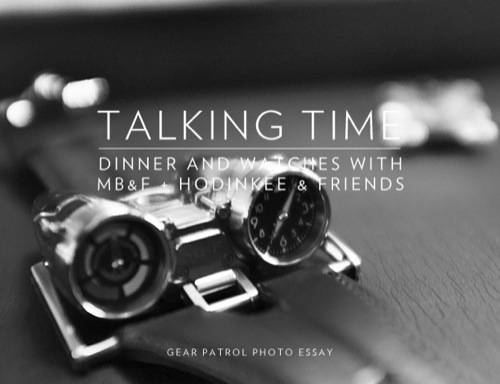 Gear Patrol | Dinner with MB&F + Hodinkee & Friends
Last week, I had the opportunity to join my good friends from Hodinkee, Gear Patrol, Forbes and a few other publications as well as a small group of Hodinkee loyalists for a dinner hosted by 'dinkee and Stephen Hallock of MB&F. On display were ten horological machines from MB&F and were available to touch, feel and try on. We are now in a very small group of individuals that have been given such an opportunity to see these rare pieces in person, let alone ten of them at once. Much thanks to Ben Clymer at Hodinkee and the fine folks at MB&F for making this happen, it was truly an honor.
Mr. Yang of Gear Patrol went to work with his Fuji X100 and took some amazing shots, some of which we've highlighted below for your viewing. Enjoy!