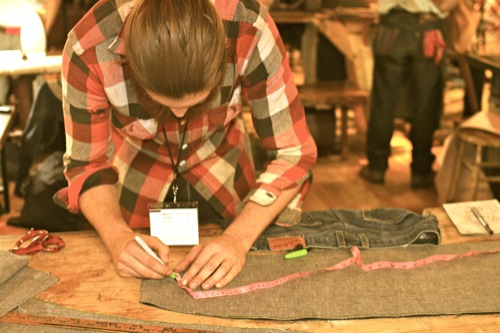 Photography by Por Homme
Alongside the endless of amount of menswear for Spring 2012 on display at this year's PROJECT show are a handlful of brands really taking the tradeshow to the next level through "MADE by PROJECT". They've set up shop within the show and are crafting product on the spot and offering it up for sale.
Bowery Lane Bicycles is actually making bikes right there and then and selling them while Hartford Denim Co. is making jeans. NYC's Joya specializes in fragrances and gives folks the opportunity to make their own scents in the form of perfumes, candles and others. Oregon's Silva LTD. wil be constructing MacBook and iPad cases from solid sheets of bamboo and hand cut and oiled cowhide leather straps. Other brands include CXXVI, ETWAS, Gariel Urist, In God We Trust, Leather Head Sports, Walk Up Press and Welcome Stranger.
It's an unreal experience to be seeing artisans at work in such a personal environment and we hope to see more of this in the future.