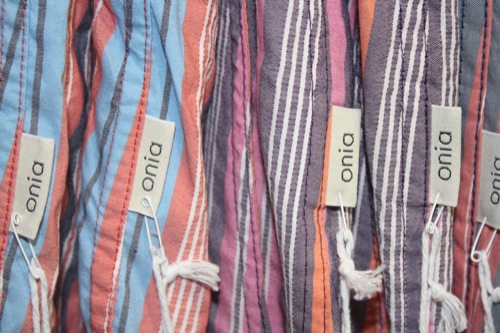 Road to (capsule) is a Por Homme exclusive, made possible by the good folks behind the (capsule) tradeshow, and of course, the person(s) being interviewed. We ask each designer a few questions that help to give us — as fans, readers, observers, whatever — a better understanding of what makes these gifted individuals tick. The questions are fairly uniform, but as you'll see, the answers are far from that. The (capsule) show invades New York July 18th and 19th, giving viewers first looks at Spring/Summer 2012 collections from the industry's most reputable men's labels.
We're just days away from (capsule) New York and we were fortunate enough to sit down with Onia's Carl Cunow. The man's an experienced vet of the menswear industry (more on that below) and with the help of his small team, he's been able to really offer a swimwear brand that's a cut above the rest. I personally stopped by their showroom not too long ago and I was really able to see why Onia is growing at an unstoppable pace. Carl's a gifted talent and he's shown that his brand is here to stay. Check out what he had to say as he and his team get ready for (capsule) New York.
—
Before Onia, what were you doing and what skills did you bring over when you launched Onia?
Before launching Onia, I worked for Steven Alan in production. I specifically ran our garment factories in USA + overseas, did the fabric + trim buying, worked on product development for the up-coming seasons. Basically, everything sourcing related.
Why swimwear and how are you approaching it differently than other brands in the market?
Swimwear, because I could never find something that I thought was wearable and to the level of quality that I was looking for. I really wanted to create something that was different and a step above just the average swim short. We use different and unique fabrics from mills all over the world, we use super soft mesh lining, all custom hardware. Even our packaging makes us special. Each trunk comes in a zip lock branded bag, comes with a nylon water resistant drawstring bag as well as our latest addition, a water wallet, with snaps and a zip lock that can be put in the back pocket of your trunks.
You have an ongoing collaboration with Liberty of London. Can you tell us a little about that and what you guys are working on for Spring 2012?
It all started when I was buying the Liberty shirting fabric when I was at Steven Alan. I was always amazed by how beautiful all their prints were and how different they are from everything else that is out there. More importantly how iconic their prints + brand are. So I contacted them when I started Onia and said, "Hey let's get these cool prints going on swim fabric", and we have worked on 3 seasons of this so far.
For Spring 2012, I pulled prints from their archives, dating back to the 70's and we are re-coloring + printing them on a super-soft nylon quality, all printed in Italy.
Can you tell us what it was like to be a part of the show's run in Paris? How is it different than the New York market?
(Capsule) Paris is great. It's different because it's just the beginning of market, so buyers are sort of shopping around and seeing what's out there first for the season, new brands, new concepts, designs, colors, pieces etc. It's great because the energy at the beginning of market is so fresh and everyone is sort of on the same page with each other, all brands, all buyers. New York market, buyers are more ready to start committing themselves to what brands,styles,colors they are going to buy into. Vegas, now that is just crunch time!
Is there a product you think both buyers and enthusiasts alike will be excited about at this year's (capsule) show?
We are releasing our first line of boy's swim shorts in our new cotton/nylon yarn-dyed stripe fabrics from Spain. We have already recieved an amazing reaction to them. Our beach towels that are one side terry and the opposite side our cotton/nylon stripe fabric also is getting alot of attention. All our accessories and other pieces this season are really getting looked at, because of how differnet we are doing everything. We wanted to put a twist on all our accessories this season to beef up the assortment.
What other brands are you looking forward to seeing at (capsule) and why?
Looking forward to seeing NSF, Nick is a great dude who's been very helpful on the production side of things, also Matty Moeck on the sales sides of things. Those dudes are awsome. Looking foward to seeing more of Nick's denim, I just got a pair and they are sick. Looking forward to also seeing Relwen, Jamie Rupp has a dope line that keeps evolving into something I like more and more.