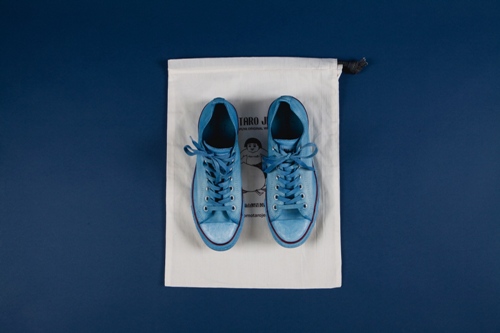 Tenue de Nîmes is launching a collection of special, hand-dyed, natural indigo, customized Converse Chuck Taylor All Star shoes that will be released during Amsterdam Fashion Week this summer. On July 15th Tenue de Nîmes will host a 'Down-Town' event in their Amsterdam-based store to celebrate the release of this limited edition shoe. Tenue de Nîmes asked the legendary denim experts, the Manabe family from Okoyama in Japan, owners of the Momotaro brand and Rampuya dyeing factory, if they would be able to indigo-dye a limited amount of 50 pairs and Mr. Manabe gracefully obliged.
The result was a limited run of stunning hand- numbered shoes, dyed in natural indigo. Each shoe is unique thanks to the traditional craft of hand-dyeing and the use of natural ingredients throughout the process. Every shoe is decorated with a Tenue de Nîmes cross on the inner sole. The shoes are sold in a Ramupya natural cotton bag and are exclusively available at Tenue de Nîmes in Amsterdam for $125. During the event on July 15th 2011 Tenue de Nîmes will officially present the limited collection of indigo Chuck Taylor All Star shoes along with an exhibit on the Japan-based dyeing process.
Video and imagery of the TDN x Converse Chucks below.