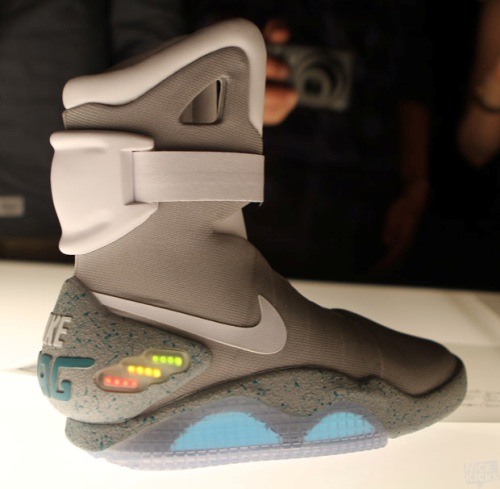 2011 Nike Air MAG | Back For The Future Video
If you haven't heard yet, Nike's dropping the MAG sneaker, one you might remember from the 1989 Back to the Future II movie starring Michael J. Fox. Nike announced that 1500 pairs of this shoe will be auctioned on eBay, nikemag.eBay.com, with all net proceeds going directly to the Michael J. Fox Foundation. The auctions have begun and will end on September 18 with 150 pairs to be posted on eBay per day for 10 days.
The Air Mag is the first rechargeable footwear from Nike and minus the power lacing feature seen in the movie, just about everything else will be seen in these remakes of the original prop. Some of these elements include the upper contours, the glowing LED panel and the electroluminescent Nike logo in the strap. The Nike Air Mag actually illuminates with the pinch of the "ear" of the high top, glowing for five hours per charge.
The video below stars Bill Hader, Christopher Lloyd, Tinker Hatfield, Donald Fullilove and Kevin Durant and is actually pretty entertaining. It was an ordinary evening at Lone Pine Mall. All Kevin Durant wanted was a new pair of shoes. Then the space-time continuum showed up.
We hope the shoes and the auctions get some more shine over the coming days so we can defeat Parkinson's. Head to www.back4thefuture.com to learn more about the auctions and the cause.