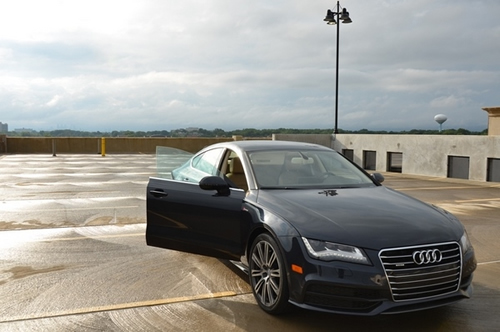 We recently had the opportunity to get behind the wheel of the 2012 Audi A7, a modern blend of luxury and performance. I've had the pleasure of driving other Audi vehicles in the past and this one definitely sits atop the list. Over the past few years, Audi has really become one of the most exhilerating German automakers on the market. The A7 was introduced earlier this year and we fell in love with it on first sight. The front end is aggressive with Audi's symbolic front grill and iconic daytime LED headlight system playing the lead and delivering well against the sleek lines of the body. The rear is as elegant as it is sporty and gives the car a look that does more than rival the Mercedes-Benz CLS. The rear spoiler really tops things off as it comes up from hiding at the hold of a button.
The 3.0 TFSI is the same engine you'd find in an A6, but this supercharged beauty holds up nicely when paired with Audi's Quattro system and seven-speed automatic transmission. The A7's suspension makes it feel like your floating on air as it delivers one of the most comfortable drives on the market today. The car comes with a ton of features that really left us impressed with Audi's first-generation A7. These include the fold-out MMI with its Google Earth Navigation system and the Bluetooth Audio connection that switched effortlessly between my iPhone music and phone calls. The cockpit is extremely comfortable and will please a wide range of buyers, whether they're in their mid twenties like me or in their mid fifties like my dad.
Between Audi's amazing design ethos that are seen throughout the car, the digitally-connected interior and the German automaker's ability to effortlessly blend luxury and style with performance, there's really not much left to yearn for. With a starting MSRP of $59,250, the Audi A7 is in a great position to take hold of a segment that many feel Audi is late in entering. We say it never hurts to observe and correct all the things others are doing wrong.
We took the Audi A7 for a spin and thought we'd cook up this video to give you a glimpse of what this beauty has to offer.
Special thanks to Audi for giving us the opportunity to test drive the 2012 Audi A7.