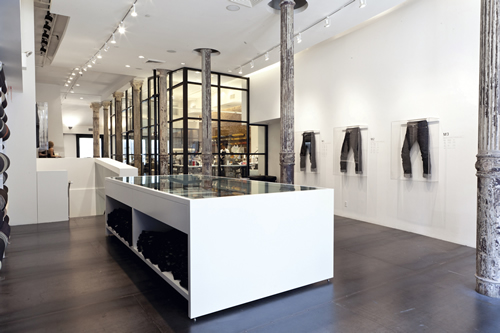 We recently had the opportunity to visit 3×1, a fairly new shop denim brand and the third venture of designer Scott Morrison following Paper Denim & Cloth and Earnest Sewn based in New York. Being the denim fanatic that I am, Scott's past work (especially Earnest Sewn) really had me excited to see what 3×1 was offering up. There's only one location and it's on Mercer St. in SoHo. The shop houses a 4,000 sq. ft. retail and gallery space, an entire manufacturing facility as well as their 3,200 sq. ft. design studio. Each pair of 3×1 jeans is created on site and tailored for the customer as Limited Edition, Custom Made or Bespoke. Yep, bespoke denim.
The process is unreal, folks. You get the opportunity to work individually with Morrison and his pattern-maker to create your own pair of jeans from start to finish. If you're not quite ready for this, you can opt for the other two selections. Limited Edition refers to the styles on display in runs of 8, 12 ,16 or 24 to be hemmed and finished with a button and rivets of the customer's choosing while the Custom Made option includes time with a fit expert to determine preference of back pockets, fabric and thread theory. The fabric selection offered to customers consists of more than 60 unique selvedge denims from around the world (primarily for men), and as many as 50 varieties of denims and twills specific to women.
The process is as amazing as the product itself. Scott doesn't see 3×1 as a mass production business. It's all about taking your time and treating each pair with the utmost care and detail. If you're in the area, I encourage you all to stop in and see the product for yourself.
3×1 — 15 Mercer Street New York, NY 10013