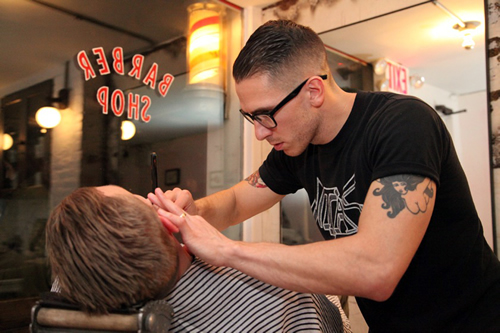 Park & Bond for Movember
The other night, we had the chance to stop in for Park & Bond's Movember event at the Blind Barber here in NYC. For those not familiar, Movember is annual event that looks to change the face of men's health. During November each year, Movember is responsible for the sprouting of moustaches on thousands of men's faces, in the US and around the world. With their Mo's, these men raise vital funds and awareness for men's health, specifically prostate cancer and other cancers that affect men. Where do you come in? You support their efforts by donating and joining in on the movement as well. This way, the support grows as does the conversation around men's health and specific cancers that affect us. A long list of gentlemen from Park & Bond's team have joined Movember, and we were there on November 1st to witness a few guys known for their beards hop in the barber's chair and wipe it all off.
To donate to Park & Bond's team, head on over to mobro.co/parkandbond and get in on the conversation.