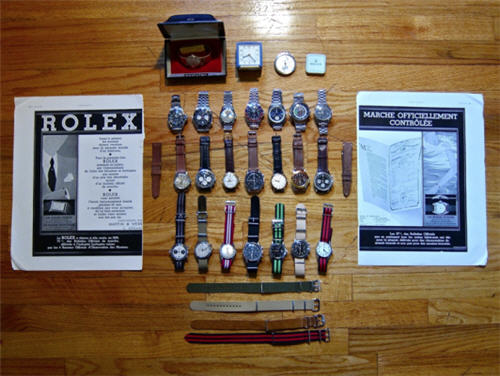 We're a day away from the launch of this year's Pop-Up Flea here in NYC and some pretty major news just came through the wire. Online watch publication Hodinkee is launching their first Pop-Up Store at the event. So what's up for grabs, you ask? The type of stuff you expect to be reading about on Hodinkee. Ben Clymer & Co. have done an amazing job lining up the offerings. We're talking vintage watches, old clocks, pocket watches, vintage watch advertisements and posters, and other old-timey watch miscellanea. They'll even have a bunch of NATO straps in different colors, along with some Horween leather and suede NATOs and straps.
We have just a ton of great stuff, ranging from just $350 up to a few thousand. We will be accepting all major credit cards and we promise you, this will be the best vintage watch buying opportunity in New York city in all of 2011. We'll have a good range of Rolex (more affordable than you think) Omega (including some seriously awesome Speedmasters), Heuer, Universal Geneve, LeCoultre, Longines, Hamilton, Breitling, etc.
The Pop-Up Flea kicks off tomorrow at 3PM and will run Saturday and Sunday as well. You've got three days to get your hands on some really exceptional product. For a more detailed look at some of the offerings, head on over to Hodinkee.