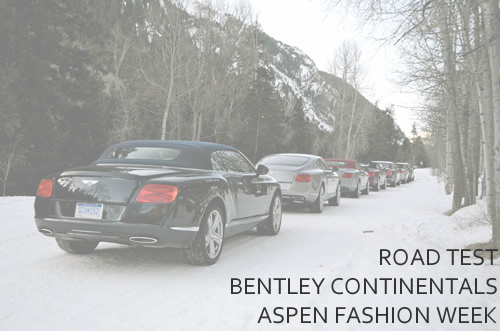 We were recently invited out to Aspen, Colorado by the fine folks at Bentley for an experience of a lifetime. While all the Aspen Fashion Week festivities were in full swing, Bentley took us out to a secluded snow-covered ranch right outside of town. We hopped in the passenger seat of the Supersports Convertible ISR (Ice Speed Record) while Bentley Driving pros took the 631-hp beauty across a snowy meadow, specially created for the winter driving experience. We were swinging around corners with ease and it took us back a bit because the Continental's all-wheel drive system is one of the British automaker's strong suits but not the conversation that's normally had. No matter the weather, we're accustomed to talking about the car's stunning looks and its luxurious cabin with hand-crafted leather, book-matched wood veneers, and knurled stainless steel. That's changed.
There's a 40:60 rear bias for sporting handling and spirited mid-corner acceleration. However, it can adjust the power split instantaneously between the front and rear wheels depending on the available grip. The sophisticated Electronic Stability Control (ESC) system provides additional security and grip whatever the driving style. We saw this in full-force throughout the day as we switched from an ISR on a snow-covered track to the Bentley GT and GTC convertible on asphalt that was layered with specs of ice.
We captured some great shots of the sports cars in motion so be sure to scroll down and check them out.