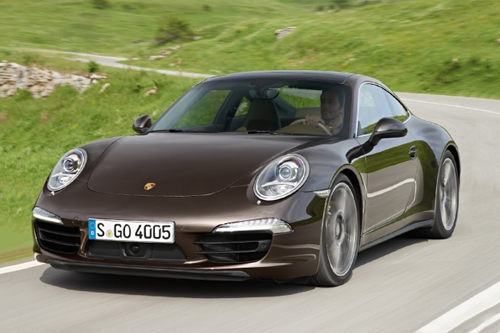 Porsche has officially unveiled the new all-wheel-drive 911 in four versions — the 911 Carrera 4 and 911 Carrera 4S, each as Coupé and Cabriolet. Their lightweight body design, suspension, engines and gearboxes are identical, the only modifications being related to the all-wheel-drive. The higher level of engine and performance actually leads to better fuel efficiencies with total savings for individual versions as much as 16 per cent. The all new models have a seven-speed manual gearbox standard with the German automaker's PDK seven-speed gearbox available as an option. This is mated to a 350-hp 3.4 liter six-cylinder engine in the 911 Carrera 4 Coupe and Cabriolet while the Carrera 4S Coupe and 4S Cabriolet is fitted with a 3.8 liter boxer engine that dishes out 400 hp.
The most distinct feature of the Porsche 911 Carrera 4 and 4S, compared to the two-wheel drive 911's, is the wider rear section as the rear wheel housings each extend further outward by 22m while the tires are each ten millimeters wider. The traditional red light band that connects the two taillights on the 911 Carrera C4 has also taken on a new form.
Look for all four models to make their debut at the 2012 Paris International Auto Show on September 29th.