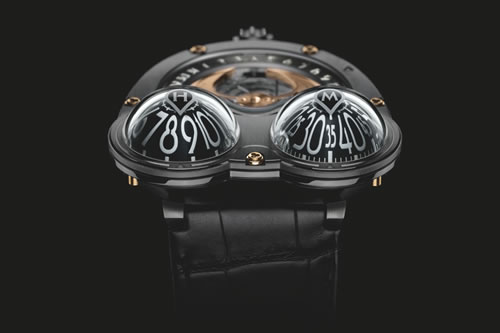 MB&F HM3 Poison Dart Frog Watch
Hodinkee gives us a look at MB&F's latest creation — the HM3 Poison Dart Frog. Their infamous HM3 Frog is comes in a black PVD-coated zirconium case against the 18k yellow gold screws and 22k yellow gold rotor. The contrasting details are magnificent but the looks run deeper. It's designed after an actual poison dart frog, or Dendrobates Leucomela, whose black and yellow camouflage protects him in his natural habitat. Max Büsser and Co. have tweaked this beauty to perfection and with it being the very special piece it was crafted to be, there will only be ten pieces made available. Singapore's Hour Glass will be the only retailer getting these.
We've got a few more shots of the HM3 Poison Dart Frog watch but be sure to head over to Hodinkee for more details.