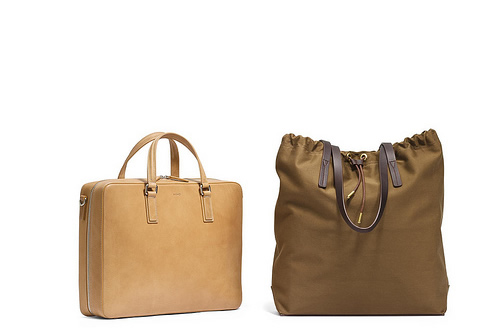 In 2003, Rikke Overgaard and Adam Alexander Bach launched Mismo, a bag company that looked to deliver high quality goods that were crafted from top-notch materials and fitted with minimalistic detailing. They've certainly succeeded as the label's gotten global recognition and some tremendous cosigns from several major publications. They've taken the covers off their S/S 2013 collection, one that's just as promising as their first and there are some distinct differences from past collections, all of which we're happy to see. Rikke and Adam have loosened up a bit for the summer months, giving us bags that are fitted with vibrant colors and playful prints.
Mismo's original mustard yellow makes a strong return, accompanied by new floral and denim-inspired materials, and a handful of new bags. The new styles are actually some of the most versatile bags we've seen on the market, as they allow you to shift from office to gym to a weekend getaway with ease. There's no real label to each, so you can grab the one you dig the most and mold it to your lifestyle.
Mismo's S/S '13 collection is quite extensive and we've got looks at our favorite pieces below.