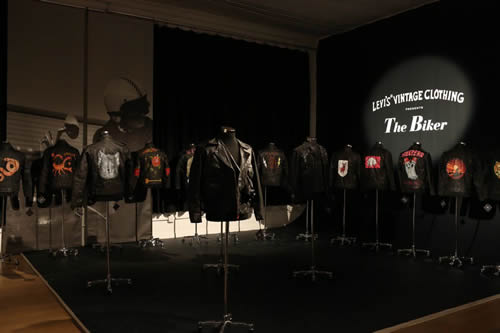 This past weekend, New York's 5th annual Pop up Flea played host to the second leg of LVC's "The Biker with Oil and Leather & The Bikeriders" exhibition. LVC's Fall 2012 collection pays homage to the rebellious spirit and renegade style of the American biker – white t-shirt, black leather jacket and the classic 501®. To take things next level, the brand teamed up with 13 artists and illustrators from around the globe to customize black leather motorcycle jackets with the use of oil paints, with 21 jackets designed in total. The results are tremendous with designs that cover even the most minute detail.
Throughout the exhibition, you'll also see mentions of Danny Lyon's historic 1968 photo-documentary, The Bikeriders, with a collection of publications, photos, outtakes, and private correspondence from Lyon's archive all on hand. "I was a bike rider, a photographer and a history student, probably in that order." – Danny Lyon (On his early years).
The exhibition was initially on display in the Union Square store and went to the Pop Up Flea from there. efAnd then to the Levi's store in Shinjuku, Tokyo on December 7th, where the custom jackets will be sold. All proceeds will go to Ashinaga Foundation.