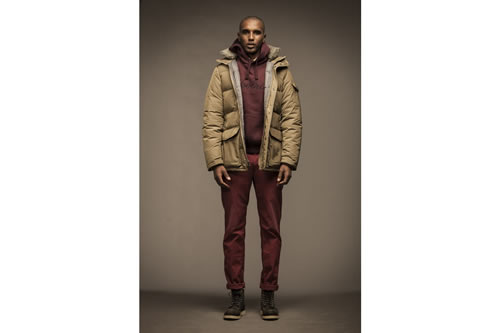 Today marks the start of Pitti Uomo in Florence and we've already gotten a few brands in highlight. First up is Woolrich John Rich & Bros. and their Fall 2013 collection which is broken out into two macro themes for the season: the TOWN CONCEPT and MOUNTAIN CONCEPT. From the tailoring interpretation of the original Americana to the technical performances of the new Outdoor Teton Group, the collection presents a wider range of new outerwear and sportswear that go from the outdoor style to the more sophisticated urban and tailored look.
The TOWN CONCEPT focuses primarily on city life by delivering an understated tone via British-influenced blazers, herringbone patterns and tailored cuts. For layering, lightweight 100g pieces in down can be placed under blazers and lightweight outerwear such as the Sundance Jacket with hidden pockets and the hooded Powderhorn Parka.
The MOUNTAIN CONCEPT looks to interpret a lifestyle for a weekend out of the city and free time in the mountains, a continuative theme that goes back to the origins of the Woolrich brand. The pieces are made from technical water-resistant fabrics for cold outdoor temperatures and have an elegance that distinguishes them from purely outdoor outerwear.
New pieces in the collection are special editions of the classic arctic parka: the Loden Arctic Parka DF, in Loden fabric made in Austria in collaboration with Loden-Steiner, the Loro Piana Storm System Arctic Parka , 100% Italian wool, completely water resistant, the Shearling Arctic Parka in Supima cotton, a water-repellent fabric, enriched with sheepskin lining and hood and the Camo Arctic Parka DF in wind and waterproof nylon.